Disney's Initiative to Support Children's Hospitals
Disney Team of Heroes App
---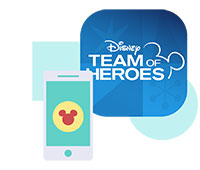 The Disney Team of Heroes app unlocks stories, games and other entertainment offerings on a patient's mobile device. All of these experiences can be enjoyed throughout the hospital or from the comfort of a patient's room. At Nemours Children's Hospital, the Disney Team of Heroes app interacts with special Disney, Pixar, Marvel and Star Wars murals to bring beloved characters to life.
To interact with murals at your hospital: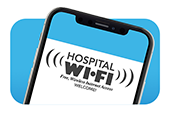 1. Connect to Hospital Wi-Fi "Nemours internet".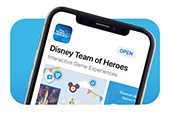 2. Download the Disney Team of Heroes app for free, then open it.

3. In the app, tap the Mickey Film symbol.

4. With your camera, scan the mural to find the sparkling circles and tap to reveal a surprise.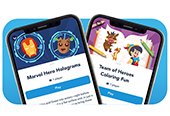 5. Enjoy other fun games and experiences within the app.
The Disney Team of Heroes app is available for download from both the App Store and Google Play.

Available for iPhone® and smartphones for Android™

Message, data and roaming rates may apply. Availability subject to handset limitations and device settings and features may vary by handset, service provider or otherwise. Coverage and app stores not available everywhere. If you're under 18, get your parents' permission first. Apple, the Apple logo, iPhone and Apple Music are trademarks of Apple Inc., registered in the U.S. and other countries. Google Play is a trademark of Google LLC.