Nemours Cardiac Center at Nemours/Alfred I. duPont Hospital for Children
1600 Rockland Road, Wilmington, DE 19803 | Get Map & Directions »
---
Note: To view heart animations, you'll need the latest version of Adobe Flash Player.
---
Children's heart conditions can't be prevented, but a lot can be done to improve and often completely repair their hearts at any age. Thanks to advanced technology and the pediatric heart experts at the Nemours Cardiac Center (based at Nemours/Alfred I. duPont Hospital for Children), most children born with a heart problem — even newborns only hours or days old — can be quickly diagnosed and treated right when it matters the most. At the Cardiac Center, we specialize in early detection and repair of congenital heart defects (also often called, "congenital heart disease").
If your child's been diagnosed with aortic stenosis, we're here to ease your concerns, answer your questions, and give your child the best possible chance for a healthy future.
Why Choose Us
From our outcomes to our family-centered care, find out all of the reasons why your child's heart will be in good hands at the Nemours Cardiac Center. Learn More »
Make an Appointment
(800) 416-4441
---
Information for Patients
Outpatient Services and Inpatient Units: (302) 651-6660
After 5 p.m. and Weekends:
Cardiac Intensive Care Unit: (302) 651-6644
General Inpatient Unit, 2B: (302) 651-6690
---
International
Patients
+1 (302) 651-4993
Michael's Aortic Stenosis Story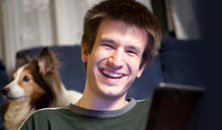 Meet Michael, who was 6 weeks old when he was diagnosed with aortic stenosis and treated by the pediatric heart experts at the Nemours Cardiac Center.