Keith: Kidney Transplant
---
"The future for Keith is so much brighter and more open to whatever he wants to achieve"
— Keith's family
---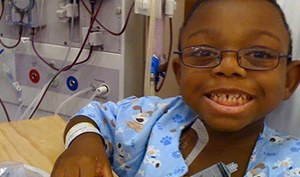 Before Keith was born, his parents knew he would need a kidney transplant. He was diagnosed with polycystic kidney disease while his mom was pregnant with him. As soon as he was born, Keith was put on dialysis while he waited for a new kidney.
Dr. Ahmad Bani Hani, an urologist, determined Keith would need a new bladder in order to accept a new kidney. A month later, in an 18-hour surgery, Dr. Ahmad Bani Hani and Dr. Stephen Dunn used part of Keith's bowel to create a new bladder. After three years on hemodialysis, traveling to the hospital three times a week for treatments, Keith's parents finally received the call that a kidney was available.
His transplant surgery was on June 8, 2014, and within 24 hours, Keith had better kidney function than most healthy people.
Now 13 years old, Keith loves watching sports, is an honorary member of the Millersville Baseball team and also loves singing.
"The future for Keith is so much brighter and more open to whatever he wants to achieve," says Keith's family. "Thanks to someone's choice to be a donor and all the special professionals that we have encountered along the way. Nemours/Alfred I. duPont Hospital for Children is full of heroes and makes a difference in so many lives. We can never thank them enough."
---