"Alyce-Faye is more balanced now and stronger. That strength gives her more confidence in the pool. And that gives her a mental edge in competitions…This is a great, great center. It's not only for elite athletes, but for any child that's on a team of any kind."
– Annemieke, Mother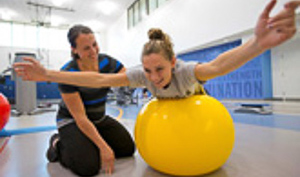 Alyce-Faye Eichelberger, 13, of West Chester, Pa., was experiencing wrist pain. And it was getting worse — a real concern for anyone, but even more so for an athlete working towards the Olympics.
Olympic Dream Stopped by Pain
A competitive swimmer since the age of 9, Alyce-Faye began having trouble bending her wrists. Until then, she'd been extremely successful, and had been working toward trying out for the Netherlands' Olympic Team. Now, that dream was in danger.
Her parents, Annemieke and Martin, quickly sought out medical care. Her primary care doctor recommended a pediatric sports medicine specialist at Nemours Children's Hospital, Delaware's Center for Sports Medicine in Wilmington, Del.
The Road to Recovery
Her doctor recommended therapy to alleviate the pain and swelling, and strengthen the wrist. Through physical therapy and the help of the Center for Sports Medicine, Alyce-Faye was able to do exactly that.
The physical therapists and athletic trainers at the Center for Sports Medicine, the region's largest pediatric sports medicine facility, had experience with a vast array of sports-related conditions. They looked at how Alyce-Faye was using her wrist during her swim stroke, and analyzed the angle of its entry into the water. They recommended some adjustments to her technique, enabling her to lessen the strain, avoid further pain and swelling, and strengthen her wrist.
When she developed a back problem, they were able to help her with that as well, designing a program to strengthen her core and increase her stability.
In fact, the therapy was such a success that Alyce-Faye was able to compete, pain-free, at the Junior Nationals in Holland just three months after starting therapy — winning two bronze medals. Her dream was back and looking better than ever.
Even Better Than Before
After therapy, Alyce-Faye's mother, Annemieke, says: "… This is a great, great center. It's not only for elite athletes, but for any child that's on a team of any kind. They do a great job educating the parents, too."
All smiles back at the Center for Sports Medicine, Alyce-Faye says: "I'm getting a lot stronger, which helps in the pool. It's tough, hard work. But the athletic trainer and the staff are amazing. They make it fun. We laugh a lot. And my doctor is really nice and really good at what she does."
Alyce-Faye's father, Martin, agrees: "They relate to kids her age, and because they are more comfortable and open with the kids, the kids are more comfortable and open to the therapy. Another motivator is that the kids are working in a big room with other kids. They see each other working hard and want to do it, too."
Now 14, Alyce-Faye is once again excelling in events such as the backstroke and individual medley (a combination of butterfly, backstroke, breaststroke, and freestyle in one race). "I really like it here," she says, expertly balancing on a brightly colored stability ball — an exercise designed for core stability. "I look forward to my sessions. And I can't imagine where I'd be without [them]." What she can imagine, thanks to her newfound strength and performance, is a spot on the Olympic team.