PedsAcademy: Future Teachers Serving Kids in the Hospital
Carlos Aleman knows what it's like to endure long hospital stays as a child, missing Thanksgiving and Christmas celebrations, family, friends — and even school.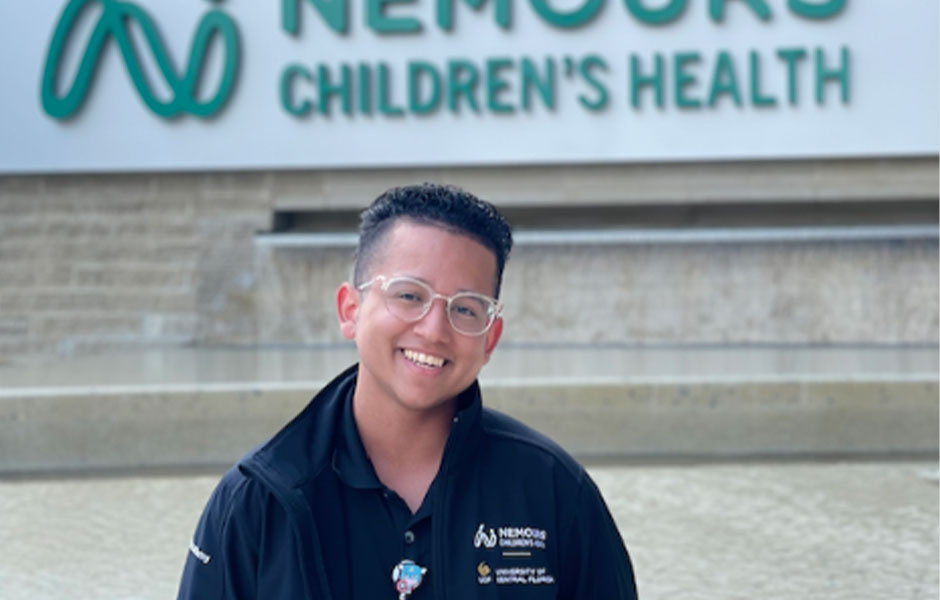 He was diagnosed at age 4 with acute lymphoblastic leukemia, and at age 7 spent nearly a year as an in-patient recovering from a bone marrow transplant. Today cancer-free and inspired to help kids going through similar hardships, Aleman, now 23, got some recent hands-on experience from an innovative internship program at Nemours Children's Hospital, Florida.

Since 2018, our first-of-its kind PedsAcademy® has trained more than 120 student teachers who have completed undergraduate courses at the University of Central Florida (UCF). Over 12 weeks, the interns provide one-on-one and classroom instruction to young patients while learning how to support children with chronic health conditions.

"It takes a special kind of person to work with kids with special needs, especially if you don't have someone in your family to learn from," says Carlos. "A lot of patients may be tired, not feeling up for school, but you've got to meet them where they are. If they're giving you 20 percent, you give your 120 percent."

PedsAcademy® is part of our Hospital School Program.
To arrange for your child to participate, talk to your social worker or our nursing staff. With your permission, our hospital-based teacher may contact your child's regular classroom teacher to coordinate assignments during the hospital stay. Instruction can take place at your child's bedside or in our hospital classroom. 
For more information on the internship, email PedsAcademy@Nemours.org, or see our toolkit for starting your own internship program.