Mavrik: Hypoplastic Left Heart Syndrome
"If it wasn't for that fighting spirit, he might not be alive today. He's wise beyond his years, and inspires others. His dream is to play baseball. His spirit and inner strength keep him going every day."
– Kim, Mother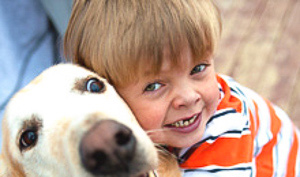 Few people live up to their name more than Mavrik. "Independent, strong-willed, no stopping him — that's the definition of a maverick, and defines my son," says Mavrik's mom, Kim. "If it wasn't for that fighting spirit, he might not be alive today."
Mavrik has faced many battles for a 6-year-old, including seven open-heart surgeries, a stroke and weeks in the hospital. Through it all he remains a pint-sized dynamo who doesn't let anything stand in the way of his true passion — baseball.
Mavrik's dream came true last year when he threw out the first ball of a Phillies game. His time in Buddy Ball and Little League prepared him well for the big moment.
"Mav plays every position with enthusiasm," Kim says. "He will play in all weather at any time. He just loves baseball, and his team loves him. They call him when he's sick, and they have a special cheer for him. He seems to charm people wherever he goes."
Mavrik's health problems began before he was born. Although Kim was delighted to be pregnant at 39, her joy was short-lived when an ultrasound revealed a serious heart defect in the developing child. The diagnosis was hypoplastic left heart syndrome (HLHS), a condition in which the structures of the left side of the heart are underdeveloped and unable to pump blood adequately to the body. At 26 weeks gestation, Kim had her first consult with Nemours pediatric cardiologist Abdul Bhat, MD.
"He gave us three scenarios for the delivery," Kim says. "We chose the Norwood three-stage procedure to correct the defect." Mavrik was born at Lankenau Hospital and transported immediately to the Nemours Cardiac Center. His first surgery was done at one week and his second at 5 months of age. Mavrik developed complications that included a stroke but, despite setbacks, underwent the third stage procedure and did well.
Mavrik needed a peripherally inserted central catheter (PICC) and physical, occupational and speech therapy after the stroke. Yet given all that Mavrik has been through, he has a giant personality and a heart to match. "Everyone is attracted to him, he has great compassion," Kim adds. "He's wise beyond his years, and inspires others. His dream is to play baseball. His spirit and inner strength keep him going every day."