"As a mother, I just didn't want Zion to have to have any type of surgery — and this one sounded serious. However, [her ENT surgeon] Dr. Richard Schmidt was respectful to any questions I had and responded…to all of my concerns."
– Pamela, Mom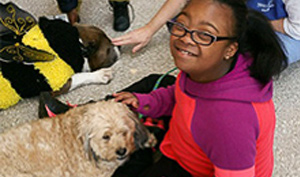 Zion, of Harrington, Del., is a very loving 9-year-old with Down syndrome. She adores bowling, her Wii U, and her six stuffed animals who absolutely must sleep with her every night. Since birth, Zion has dealt with congestion — stuffy nose, ear infections, sinus infections, even snoring — all not surprising since ear, nose and throat (ENT) problems are common in people with Down syndrome. Although medications helped, it was clear they weren't enough. Between 1 and 2 years old, Zion had surgeries to insert ear tubes as well as remove her tonsils and adenoids. Those procedures definitely helped — Zion's ear infections cleared up and her sinus infections became seasonal rather than perpetual.
But as Zion got older, her mom noticed she was always waking up saying she was tired. A diagnostic procedure called a "drug-induced sleep endoscopy" (DISE) revealed that Zion wasn't getting enough air as she slept, which was causing severe sleep apnea (making her stop breathing during sleep). Despite the fact that Zion had already undergone a tonsillectomy and adenoidectomy, there was now another option — "transoral robotic surgery" (TORS). This operation uses the latest robotic surgical technologies to remove the lingual tonsils (located at the back of the tongue's base — they're not the same as what we traditionally call "tonsils").
A Special Procedure Performed by Only a Few Hospitals
The transoral robotic surgery procedure is only being performed in children at a few hospitals in the country — and Nemours Children's Hospital, Delaware is the only one in the region. As part of her sleep apnea care, Zion was seen at Nemours by pulmonologist Dr. Aaron Chidekel, nurse practitioner Kim Young-Connor (who was able to see her closer to her home, at Nemours Children's Health, Seaford) and ENT surgeon Dr. Richard Schmidt.
"As a mother, I just didn't want Zion to have to have any type of surgery — and this one sounded serious," says her mom Pamela. "However, Dr. Schmidt was respectful to any questions I had and responded…to all of my concerns. Even after the surgery, he was there to reassure us that the surgery was successful."
Zion had the TORS operation in November of 2015. Pamela says the results have been amazing — "She is better rested now and does not wake up saying she is still tired like before." Her pediatrician noted at Zion's recent well-visit that she could definitely hear and notice the improvement in Zion's breathing. Zion has become more active and has lost weight too
"We have received so much support here at Nemours. Dr. Chidekel was with us every step of the way during her sleep studies," says Pamela. "And Kim Young-Connor is an absolute angel…To me, she will always be a part of our family. She listens and truly cares about her patients and the concerns the parents discuss with her so [we are all] working together for the best results."