contact us
Hospital Medicine
contact us
Hospital Medicine
Special Care for Inpatient Stays
Nemours Children's pediatric hospitalists help kids in the hospital recover and get back to their healthiest selves. We manage the care a child receives at our children's hospitals and at partner hospitals in the regions we serve.
Our team is highly trained in common and rare pediatric conditions that need hospital care. This expertise means we can bring in the right tests, medical services and specialists at the right time.
We're here for you around-the-clock from admissions to discharge. We partner with admitting doctors and specialists for the best possible care. We keep your child's primary care provider informed during and after a stay. If needed, we set up health care services after discharge to help with a smooth recovery.
At Nemours, we work hard to get kids on the mend, and back to being a kid again.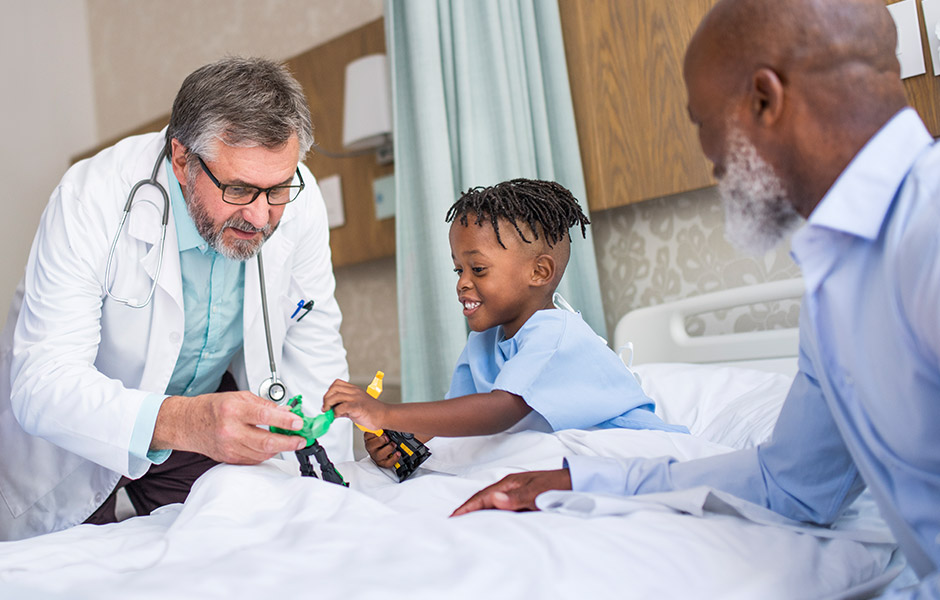 See Where We Care for Kids
Take a virtual tour of our state-of-the-art children's hospitals.
The more you know, the better you can prepare for your child's hospital stay. Learn who's who in the hospital from the experts at Nemours® KidsHealth®
Going to the hospital can be scary for young children. Help your child know what to expect with this kid-friendly article.
Trusted Hospitalist Expertise for Babies, Children and Teens
As pediatric hospitalists, we help kids of all ages and abilities. We have expertise working with children who have special health needs.
When we're avialable at our children's hospitals
We're trained in pediatric conditions. 
Our hospitalists are highly trained in a wide range of pediatric conditions, from simple to complex diseases. This can make a difference in your child's recovery.
We work to have consistent care. 
We get to know your child and family. Our doctors collaborate closely to oversee your child's care.
We're here for your family. 
We know it's hard having a child in the hospital. We support your family and connect you to hospital services to help with play, coping and more.