Colin: Acute Myeloid Leukemia
"It's a good feeling thinking that we're helping other children with cancer, too."
– Chris, Dad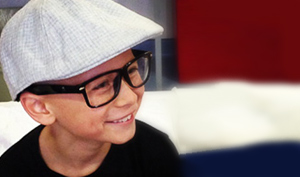 Words No Parent Wants to Hear
Eight-year-old Colin had some bruising and it wasn't going away. Then, on a summer visit to the shore, he looked gray and felt abnormally cold. His father Chris took him to get checked out and received word the same day — there was evidence of cancer. He needed to take Colin to Nemours Children's Hospital, Delaware in Wilmington, Del., where a team of specialists were awaiting his arrival.
Chris himself was treated for cancer as a child at Nemours Children's Hospital, Delaware. But he never expected to hear "cancer" in reference to his own son. He learned that Colin had acute myeloid leukemia (AML), a cancer of the bone marrow (the spongy tissue inside the large bones of the body where blood cells are made). In particular, AML affects the body's white blood cells, which normally help fight infection and protect the body against disease. The "acute" part of the AML name indicates that the disease tends to worsen quickly if left untreated.
Fortunately, Colin's disease had been caught early. A team of physicians who specialize in oncology (cancer care) and hematology (disorders of the blood) worked with Colin, including Emi H. Caywood, MD, Christopher N. Frantz, MD, E. Anders Kolb, MD and Andrew W. Walter, MD.
Advanced Pediatric Cancer Studies
In addition to the standard chemotherapy, the team told Colin and his dad about a couple of advanced cancer treatment studies that might help. In turn, Colin's participation would add to the data being collected in the studies. Both studies are run by the Children's Oncology Group (COG), the world's largest, cooperative children's cancer research entity. Several Nemours physicians are leaders with the Children's Oncology Group. They have contributed to and are quite familiar with available and state-of-the-art trials. The studies help researchers learn how to best deal with or prevent complications of cancer and cancer treatment. One study looked at the use of a powerful antifungal medicine to prevent infection in those with weak immune systems caused by cancer and its treatment. The other studied the use of a new chemotherapy drug for patients with AML like Colin's.
"Supportive care studies, like ACCL0933 (A Randomized Open-Label Trial of Caspofungin versus Fluconazole to Prevent Invasive Fungal Infections in Children Undergoing Chemotherapy for Acute Myeloid Leukemia), are designed to help us measure interventions designed to reduce side effects associated with treatment. In providing supportive care, we often provide what we think may work. Supportive care clinical trials will show us for certain what does work. Many of our treatments are associated with significant short- and long-term side effects. Reducing these side effects is a critical goal," says Dr. Kolb, one of Colin's doctors as well as the director of the Nemours Center for Cancer and Blood Disorders (NCCBD) and director of the Blood and Bone Marrow Transplant Program.
"AAML1031 (A Phase III Randomized Trial for Patients with de novo AML using Bortezomib (IND# 58443, NSC# 681239) and Sorafenib (BAY 43-9006, IND#69896, NSC# 724772) for Patients with High Allelic Ratio FLT3/ITD)  is the state-of-the-art. This trial represents a collaborative international effort evaluating two promising new drugs in children with AML. Participation in the trial is crucial to answering an important research question that will help future children diagnosed with AML," says Dr. Kolb.
"While it is a research study, it also represents the best available therapy. Every child is treated with the intent to provide the best and safest chance for a cure."
Colin and his father agreed to participate in both studies. Over the next few weeks, Colin received the chemotherapy, as well as several transfusions. Everything went as well as it could. He didn't even get very sick from the chemo, and only felt nauseous for about half an hour on two of the days. In fact, he spent much of his time doing laps around the unit in a battery-powered Hummer. Colin was also not afraid to surprise the medical team with water guns or silly string.
A Positive Prognosis
Today, his blood is clear of cancer cells and little Colin is feeling better. His dad says he is looking forward to rejoining his class in school and catching up on his third grade year. (Colin is not so sure about the school part!) And they both agree that Colin received great care. "The staff here is excellent," says Chris. "They put kids first, and really get involved with their patients."
Colin likes the toys on his unit, especially, "A little red car and the bike you pedal with your arms!" He also liked playing games on a computer tablet and enjoyed the videos on the GetWellNetwork, which play right on the monitor in his room.
The Child Life team and the nurses on his unit also helped brighten his stay. "He enjoyed playing practical jokes on the nurses with little rubber spiders and flies," says Kim, one of Colin's nurses. "He would make things out of the latex gloves. And one day he dressed up like a little doctor."
Chris and Colin feel like they received the very latest treatment by participating in the cancer studies. And, "It's a good feeling thinking that we're helping other children with cancer, too," says Chris. Colin just nods his head in agreement.