"Through his participation in the clinical trials, Kajuan has learned a lot. He is much more confident about controlling his asthma, and I feel much more comfortable in managing his drug regimen. When I was a kid, they didn't have such a research program. The clinical trial opened the door for him to get better treatment."
– Anicka, Mother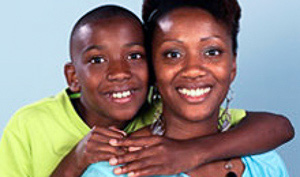 Eleven-year-old Kajuan was diagnosed with asthma when he was just a baby. Both his mother and father have a history of the disease. Kajuan, one of four children, is allergic to pet dander and has sensitivity to tobacco smoke and changes in the weather, and all trigger asthma attacks. When he was 8 years old, Kajuan was hospitalized for a severe episode.
"He had to be put on steroids and fluids for three days," recalls his mother Anicka. "It was quite scary."
During a visit to Nemours Children's Health, Jacksonville last year, Kajuan's mother found a brochure about clinical trials of asthma drugs and enrolled her son in the Clinic's Translational Asthma Research program. Kajuan had a bronchial challenge test and spirometry to help diagnose his problem. He breathed in nebulized methacholine, which helped measure the stability of his airways and likelihood of his improvement with certain daily asthma medications.
Nemours is working to find the best "personalized medicine" for each asthma patient. Finding the correct combination of drugs for Kajuan has dramatically improved his condition. To control his allergies, Kajuan also takes an antihistamine year-round.
"Through his participation in the clinical trials, Kajuan has learned a lot. He is much more confident about controlling his asthma, and I feel much more comfortable in managing his drug regimen," says Anicka. "When I was a kid, they didn't have such a research program. The clinical trial opened the door for him to get better treatment."
Nemours patients have found that clinical and translational trials not only provide access to the newest therapies but also help the patient become an expert in their own disease.
Kajuan has taken the initiative to control his asthma, even setting the alarm on his cell phone so that he will remember to take his medications. Now, he is able to play basketball with his friends and be more active.