Brendan & Dylan: High Cholesterol
"The boys understand that this is something they will have to deal with for their whole lives. Fortunately for us, Dr. Gidding is an expert, and he keeps us up-to-date on all the research concerning familial high cholesterol."
– Colleen, Mother/Aunt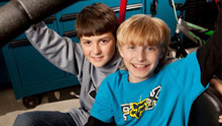 For the Jaggard family, high cholesterol is a family affair. Twin brothers Alan and Glen inherited the genetic predisposition for high cholesterol from their mother, who is now affected by serious heart disease. Although both men are fit and had been taking a medicine for years to reduce cholesterol, Alan underwent an emergency double bypass at age 37 and Glen had a heart attack in his late twenties.
Brendan and Dylan Jaggard, sons of Alan and Glen respectively, are both 9 years old. Knowing the family history, their pediatrician had their cholesterol tested. Like their dads, the cousins are tall and lean, but have cholesterol readings in the 300-350 range (170-199 is considered acceptable). Nemours Chief of Cardiology Samuel Gidding, MD follows both boys at his office in Voorhees, N.J.
An international researcher and authority on preventive cardiology, Dr. Gidding prescribed a statin drug to help the boys keep their cholesterol under control and prevent cardiac problems like the ones their fathers experienced. Brendan and Dylan both have their cholesterol tested every six months, get an EKG and have a blood profile to ensure that the drug is not affecting their liver function. Their mothers, Susan and Colleen, make sure they eat a healthy, low-cholesterol diet and get plenty of physical activity. Brendan plays soccer; Dylan runs cross-country and plays baseball and basketball.
"The boys understand that this is something they will have to deal with for their whole lives," comments Colleen. "Fortunately for us, Dr. Gidding is an expert, and he keeps us up-to-date on all the research concerning familial high cholesterol."
"Our goal, of course, is to prevent the kind of problems their fathers experienced," says Susan. "It makes you realize how precious life is."