Mason: Malignant Infantile Osteopetrosis
"My child is alive. My child is cured. He's the product of everything that Nemours has done for us."
– Sarah Shaffer, Mom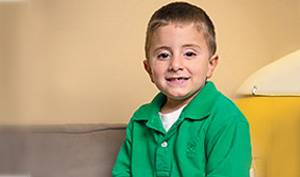 Without the expertise of doctors in the Blood and Bone Marrow Transplant (BBMT) unit at Nemours Children's Hospital, Delaware in Wilmington, Del., Mason Shaffer would not be alive. Today, he is a happy, active little boy, but his life certainly didn't start out that way.
So Much Struggle for One Little Body
When he was only 4 days old, Mason had several seizures. Tests to determine the cause were inconclusive. Then, at 6 weeks old, Mason was diagnosed with respiratory syncytial virus (RSV), a very serious viral illness in newborns. His parents, Marc and Sarah, also noticed that Mason wasn't reaching milestones such as rolling over, arching his back and lifting his head. He often screamed in pain and his left eye turned outward. So they took their son to a pediatric ophthalmologist, who diagnosed nearsightedness and a serious eye diversion in his left eye. Soon, Mason was wearing glasses and an eye patch.
During a routine visit, the pediatrician noted that Mason had an enlarged belly. A blood test showed that he had an extremely high white count, raising concerns about leukemia. Marc and Sarah immediately went to Nemours Children's Hospital, Delaware, where Mason was admitted to the hematology/oncology unit. Throughout that night, pediatric oncologists E. Anders Kolb, MD, and Jonathan Powell, MD, examined Mason's blood under the microscope and discussed and researched his condition.
A Frightening Diagnosis
By morning, Dr. Kolb told Marc and Sarah that Mason did not have leukemia. Instead, he had a serious genetic bone marrow disorder called "malignant infantile osteopetrosis" (MIOP), so rare that it occurs in only 1 in 250,000 births. Due to his disease, Mason's bones hadn't formed properly. They were solid and brittle, unable to house healthy bone marrow and to support normal growth. The diagnosis came at a critical time. Within weeks, Mason could lose his vision and hearing. Within two years, he could die. The only known cure for MIOP is a bone marrow transplant.
First, 7-month-old Mason underwent chemotherapy to disable his immune system. Six weeks after his first hospital admission, he received donated cord blood. This replaced his defective bone marrow and saved Mason's vision, hearing — and his life.
"When you're in the midst of it, you have no imagination of what the outcome is going to be," says Sarah. "You're going through the chemo and watching them take your baby's counts down to absolutely nothing. The doctors put in the new cells and just hope they work."
Against All Odds
During the next few months, all the effects of Mason's potentially fatal condition began to turn around. With extensive physical and occupational therapy, he regained the appearance and mobility he'd lost. Mason doesn't even have to wear glasses anymore. Today, he's a healthy 5-year-old whose family will be eternally grateful for the care he received.
"My child is alive. My child is cured," marvels Sarah. "He's the product of everything that Nemours has done for us."
To help other families whose children are diagnosed with serious illnesses, Marc and Sarah Shaffer have established The Mason Shaffer Public Cord Blood Program, which allows new parents to donate their newborn's umbilical cord blood at no charge. The Shaffers have paid it forward — with interest.