"Our son is in remission and it's thanks to all of you at Nemours."
– Mirela, Mother
Who would suspect a simple bump on the playground could change the course of a family's life? When then 8-year-old Sebastian was at school in Jacksonville, Fla., back in 2014, a minor collision with a schoolmate on the playground should have been no big deal. But the pain Sebastian felt was severe enough that the school nurse called his mom, Mirela. Bloodwork and an ultrasound confirmed what no mother wants to hear — her son had cancer.
Sebastian was diagnosed with Wilms tumor, the most common form of kidney cancer. But despite the panic and fear any parent would feel, Mirela also felt a calm and comfort she never expected. At Nemours Children's Health, Jacksonville, "[Nemours oncologist] Dr. Cynthia Gauger was so reassuring," says Mirela. "She understood our fears, but let us know exactly what needed to be done to make Sebastian well."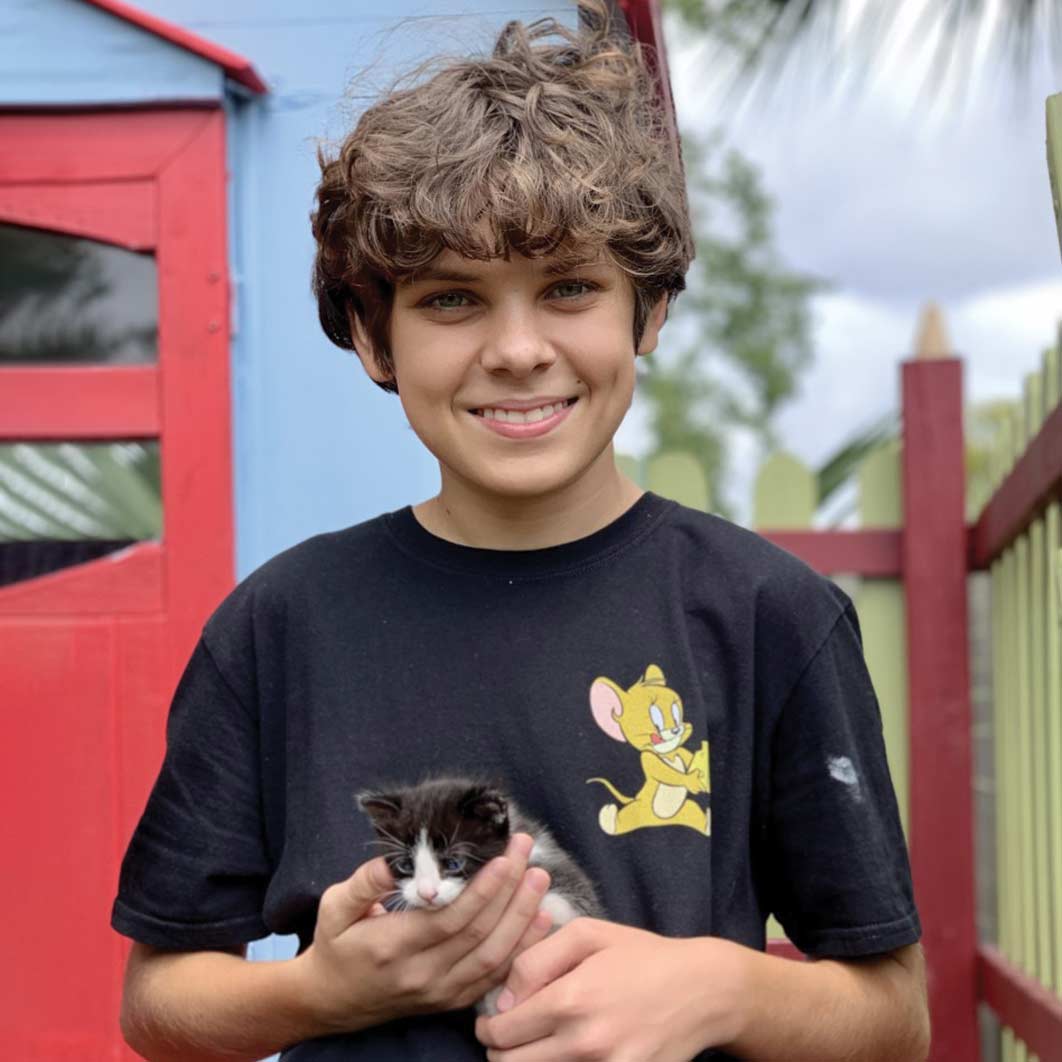 Surgical Expertise Specifically for Kids and Teens
Nemours surgeon Dr. Daniel Robie removed the tumor at Wolfson Children's Hospital and Sebastian underwent chemotherapy at Nemours Children's Specialty Care in Jacksonville. "Everything was going really well and we were getting back to our lives," explains Mirela, who'd had her second son, Dominic, while Sebastian was in treatment.
But three years later, Sebastian relapsed, this time with a tumor on his liver. Sebastian endured another surgery and more chemo as well as radiation. "Whatever needed to be done, we did it. This is my child's life," says Mirela. "And each time the caring and compassion of our doctors reassured us that Sebastian was going to get through this and be okay."
In September of 2019, Sebastian encountered another setback. The portal vein leading to his liver was blocked, possibly caused by scar tissue from his previous surgery. Sebastian was not getting good blood flow to his liver and something needed to be done — quickly. Nemours pediatric transplant surgeon Dr. Stephen Dunn flew from Nemours Children's Hospital, Delaware in Wilmington, Del., to Jacksonville to assist Dr. Robie with the surgery.
Explains Mirela, "It was a long surgery and in the end they felt it was too risky to finish. There was concern that the liver could be punctured. You hear that and think, 'What else?'" But there was something else. "Dr. Dunn came to us with a plan. He was so honest, so straightforward, yet so empathetic. I could tell as he spoke to us he was just as worried about Sebastian's well-being as we were. So, when he suggested we come to Delaware for a procedure I only had to ask 'When?'"
"The way these doctors worked together, location didn't matter. Dr. Dunn came to Florida to treat our son. We came to Delaware to see Dr. Rabinowitz. And in the end, I'd do it all again."
Interventional Radiology to the Rescue
During a pandemic is when! In July of 2020, Sebastian came to Nemours Children's Hospital, Delaware for an interventional radiology procedure by Dr. Debbie Rabinowitz. A stent was placed in Sebastian's practically closed vein to open it up and allow blood flow. Says Mirela, "One week in Delaware and we have our boy back. His blood pressure is good, his color is normal, and he is eating again. Drs. Gauger, Robie, Dunn, Rabinowitz and many more — how can I properly thank these wonderful doctors who cared for Sebastian as if he was their child?"
Over 800 miles travelled and Mirela says every mile was worth it. "The way these doctors worked together, location didn't matter. Dr. Dunn came to Florida to treat our son. We came to Delaware to see Dr. Rabinowitz. And in the end, I'd do it all again."
For more than six years, Sebastian has been fighting Wilms tumor. His family's determination inspires us to never give up, no matter how far away the journey leads us.