Nemours Children's Hospital, Delaware
Public Transportation
Parking
Free Self-Parking (Including Garage) | Open 24/7
Our hospital was designed by families, for families like yours.
Free parking (surface level and underground)
Scenic, calming setting
Private rooms with family sleep options
Ronald McDonald House across from our campus
Healing Garden
Kid-friendly activities and places to play
Outpatient pharmacy 
Language interpretation
Services for the hearing impaired
Autism-friendly (separate entrance, specific spaces with less noise/stimulation)
Close to I-95 and Route 202 (Concord Pike)
We make visiting and staying at Nemours Children's Hospital, Delaware as comfortable and convenient as possible.

Welcome Center
The Welcome Center, located inside the hospital entrance in the Anthony N. Fusco Sr. Atrium, is your one-stop resource for everything you need while you're here. You can:
Get a badge (for inpatient visitors).
Find hospital maps and directions.
Ask for language interpretation, and assistance or services for the hearing impaired.
Discover local dining, attractions, hotels and places to worship.
Learn about patient and family support services.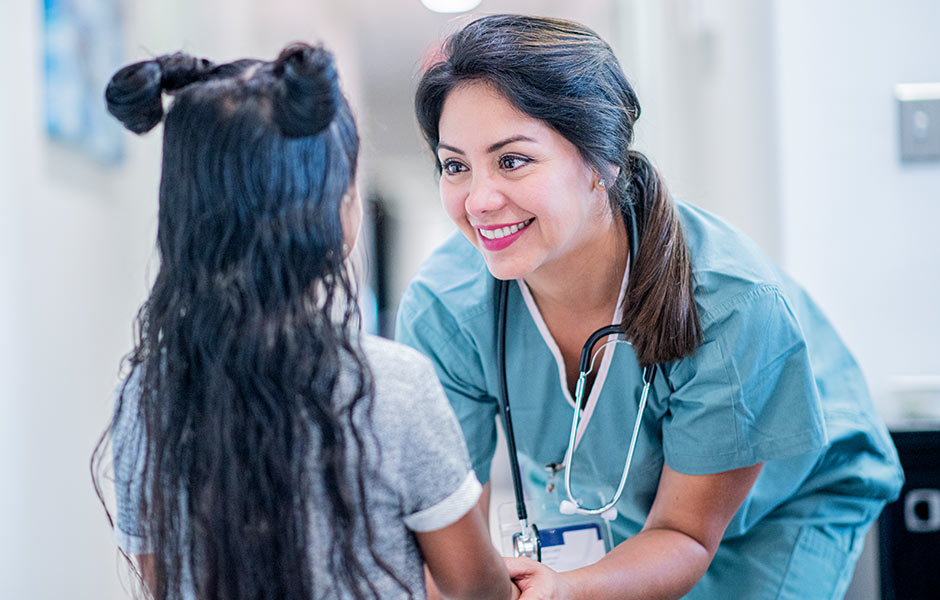 Hospital Stays 
Patient Rooms
Private rooms, each with a bathroom and shower
Two TVs, mini-refrigerator, closet and personal safe
Large windows with an outside view
Inpatient Floors
Family solariums for gathering or quiet time
Playrooms with games and toys
Washers and dryers
Family kitchens
Lactation rooms and breastfeeding support
Healing Garden (second floor)
Child Life Activity Center (third floor) 
Family Resource Center (third floor; showers, kitchenette, library, business center, private sleep rooms by reservation)
Rehabilitation and Inpatient Therapy Center (third floor)
ZeroG® Gait and Balance System (allows patients with limited mobility to test their limits without the fear of falling) — the only pediatric hospital in the nation using the latest, upgraded ZeroG® model
Activities of Daily Living (ADL) suite, with fully furnished kitchen and modified bedroom (helps children with limited mobility practice daily life tasks)
On-site school classroom equipped with computers and library, and staffed by Nemours special education teachers
Centrally located family waiting lounge with kitchenette
Outdoor terrace, where patients can play and enjoy fresh air and solitude
Where to Sleep
Each patient room has a couch and chair that convert to sleeping accommodations. 
Ronald McDonald House of Delaware provides a home away from home for families to stay together, right across from our campus.
Note: Certain specialty and intensive care units (e.g., the PICU, NICU and CICU) may have different sleeping accommodations, guidelines and conveniences. Please ask your physician or nurse about amenities available to your family.

Surgery

The surgical services waiting room (second floor) is close to vending machines and an outdoor seating area.
A surgical nurse liaison is generally available to keep families informed of their child's progress during surgery.
Our Healing Garden (also located on the second floor near the surgical services area) offers natural beauty and places for reflection.
Specialty Care 
Streamlined appointment check-in with self-service kiosks
All-abilities, wheelchair-accessible playground
Kid-approved waiting areas with activities and computers
Outpatient pharmacy onsite
Variety of dining and snack options
Emergency Care
Fast-track services for nonemergency conditions
Private exam rooms with doors, not curtains
Kid-approved waiting areas with activities and computers
Two waiting areas (one for arriving families, one for those waiting between procedures)
Sodexo Dining Area
Next to Anthony N. Fusco Sr. Atrium, Hospital Entrance
Monday–Friday
Breakfast: 6:15–10:30 a.m.
Continental: 10–10:30 a.m.
Lunch: 11 a.m. to 5 p.m.
Saturday–Sunday & Holidays
Breakfast: 7:15–10 a.m.
Lunch: 11 a.m. to 2 p.m.
Einstein Bros.® Bagels
Anthony N. Fusco Sr. Atrium, Hospital Entrance
Daily: 24/7
Jazzman's Café & Bakery
Outpatient Lobby
Weekdays: 7:30 a.m. to 2:30 p.m.
These features are open to all patients, families and visitors.
Hospital Grounds
Park-like campus with century-old oaks and open lawns so children can play or relax.
Outdoor Playground
Outpatient Entrance
For children of all ages and abilities to enjoy being a kid.
Discovery Zone Presented by duPont
Anthony N. Fusco Sr. Atrium
A 60-foot interactive digital wall.
Healing Garden 
Second Floor
Peaceful elements of water, nature and sculpture.
Prayer & Meditation Room
First Floor
Nondenominational respite and reflection.
Nemours Estate
Alfred I. duPont's breathtaking 18th-century French style mansion, gardens and grounds, located right on our campus.
Outpatient Pharmacy
Location: Near Outpatient Lobby
Hours: Weekdays: 9 a.m. to 5:30 p.m. | Weekends: 9 a.m to 1 p.m.
Phone: (302) 651-4649
Note: CLOSED DOOR PHARMACY. At this time we only fill prescriptions for employees or for patients of Nemours that have a prescription written by a Nemours provider.
There is a Medication Disposal Kiosk for unwanted medication in the Atrium of the hospital available 24 hours a day to the patients, staff and public.
Insurance Plans: We accept all major insurance plans other than Geinsinger. Please call the pharmacy with questions about insurance coverage.
Specialty Pharmacy
Location: Near Outpatient Lobby — First floor near the Sunshine and Green modules.
Hours: Monday through Friday: 9 a.m. to 5:30 p.m.
Phone: (302) 651-4649
Toll Free: (833) 921-1240
Services and Insurance: Our outpatient specialty pharmacy is for Nemours patients who require specific drugs or treatments that need to be given in the clinical setting. Dedicated liaisons help identify and obtain patient financial assistance and programs. They also help with insurance authorizations. Please call the pharmacy with questions about insurance coverage. 
Rocco & Mary Abessinio Gift Shop
Location: Anthony N. Fusco Sr. Atrium
Hours: Weekdays: 9:30 a.m. to 8 p.m. | Weekends: 10 a.m. to 5 p.m.
Phone: (302) 651-6082
Nemours Safety & Wellness Store
Location: Anthony N. Fusco Sr. Atrium
Hours: Weekdays: 10 a.m. to 3 p.m.
Phone: (302) 651-4279
The Disney Children's Hospital Program
The Disney Children's Hospitals Program delivers comfort and inspiration to families with children facing serious illness by reimagining the patient and family experience in children's hospitals.