Sports Medicine Center, Delaware Valley
Expert Care for Young Athletes
Young athletes get top-level medical care and training at five Nemours sports center locations throughout the Delaware Valley. The Nemours Center for Sports Medicine offers pediatric expertise and outstanding gym facilities for kids of all ages and activities, close to home.
Our team includes pediatric sports medicine doctors, orthopedic surgeons, neurologists, cardiologists, rehabilitation therapists, athletic trainers, nutritionists and more. We work closely to help kids recover from injury, restore strength, improve speed and agility, and train for excellence. 
We're part of an internationally recognized pediatric orthopedics program that's ranked among the best by U.S. News & World Report. We're also researching and leading clinical trials to help more kids stay in the game and stay injury-free. 
Whether play is on the field, court, ice, gym, course or arena, your young athlete gets some of the best care you can find.
Our 76'ers Fieldhouse complex is state-of-the-art. See how we help athletes perform at their highest level. 
"This is a great, great center. It's not only for top athletes, but for any child that's on a team of any kind."
"The training she was doing as part of her rehabilitation would ultimately make her an even better gymnast."
"It is more important to heal completely from an injury than to rush back in for the sake of the season. Now I understand."
We see a wide range of conditions — far too many to list here. The conditions we treat vary depending on the location and providers selected. Don't see a condition listed? Call us.
Our experts lead or work with specialties and programs throughout the hospital and the Delaware Valley.
Advanced, Personalized Sports Medicine for all Levels of Play
Our pediatric sports medicine team is highly trained. We work together to create a custom plan based on your athlete's goals and level of play. Whether it's surgery, rehab, performance enhancement or training, we're here for you.
Square feet minimum of rehab space at each of our sports complexes
One-to-one individual personal training programs to improve play
Sports injuries in kids and teens that are overuse injuries
We offer world-recognized expertise. Our team includes specialists involved in renowned programs in pediatric orthopedics, neurology and cardiology. 
We have state-of-the art facilities. Each of our sports complexes feature top-of-the-line gym equipment, advanced diagnostic technology and expert physicians and staff. Our main hospital location has an indoor pool — the largest of its kind in the tristate area — indoor track lanes, a climbing wall, outdoor playing fields and much more.
We offer high-tech diagnostics and analysis. Our low-dose imaging technology provides excellent quality with less radiation exposure. We also offer computerized 3D analysis of your athlete's running form. 
We use advanced nonsurgical therapies and custom orthotics. We start with nonsurgical approaches when possible. We offer sports-related physical therapy, occupational therapy, hand therapy, injected medicines, advanced casting, custom braces and orthotics and more.  
Screening and Care for Concussions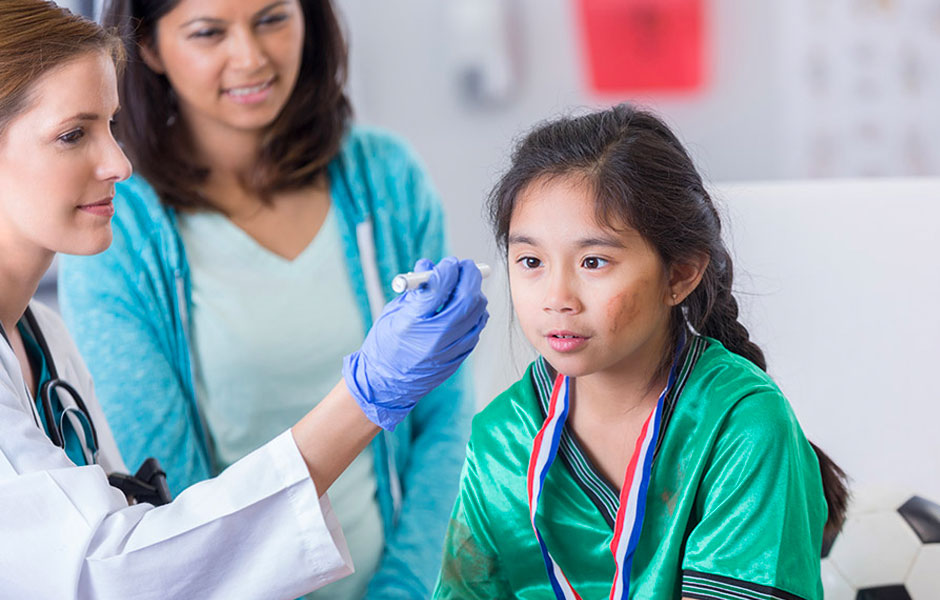 We offer complete concussion care. Our concussion testing assesses balance and vision, learning and memory, attention and concentration, thinking and problem solving, and more. We have a range of therapies and tools, including an easy-to-use app, to help your child ease back into safe play. 
Advanced Sports Performance Programs
Our unique sports performance programs help athletes from Little League to college level boost performance and stay injury-free. We offer weekly clinics, one-on-one screening, personalized training and much more.
From concussions to knee injuries, learn how your child can be active, have fun, and stay safe. Injury prevention, recovery, and more from the experts at Nemours® KidsHealth®.