Cardiac Rehabilitation & Fitness 
Contact Us
Cardiac Rehabilitation & Fitness
Contact Us
Cardiac Rehabilitation & Fitness
Contact Us
Cardiac Rehabilitation & Fitness
Safe, Fun Fitness for Young Heart Patients 
Regular exercise has many benefits for kids with heart conditions. It can strengthen the heart and lungs, improve endurance, aid in recovery and boost self-esteem. However, some kids with heart conditions hold back from activity because they or their parents aren't sure how much their heart can handle. 
The Nemours Children's cardiac rehabilitation and fitness team in Delaware helps children, teens and young adults with heart problems grow stronger and increase their activity levels. We build mental strength and confidence to enjoy fitness, free from fear. 
Our cardiologists, exercise physiologists, physical therapists, psychologists, nurses and others create care plans just for your child. We're part of the renowned, award-winning pediatric heart center in Delaware, which means your child gets the best possible care from leading heart experts.
We offer a full range of services and support for your child's best quality of life. We're here for the whole family, creating healthy habits that last a lifetime. 

We use a medically guided approach to fitness. Whether your child is living with a heart condition, recovering after heart surgery or transplant, or has a condition that puts them at risk for heart problems in the future, we tailor our program to their needs. And we make it fun.
If your child is in the hospital, our care starts while you're here and continues well after discharge. We even offer follow-up video visits for your convenience. Our program includes:
Health and fitness evaluations, which may include height, weight, body mass index (BMI), vital signs like heart rate, blood pressure and oxygen saturation, cardiopulmonary exercise testing and more
Exercise training developed and supervised by certified trainers (exercise physiologists), which includes aerobic exercises, strength exercises, sports skills and flexibility training
Psychological evaluation and support specific to the special needs of kids with heart conditions, and their families
Nutrition assessment and counseling to develop a heart-healthy diet
Weight management and a medically supervised weight loss program
Physical therapy programs that help build strength and recover activity like walking, running and playing sports
Education and support at every step, including direct communication and encouragement through the Nemours app
Two Leading Pediatric Heart Centers
Our heart centers offer highly advanced, integrated care just for kids and young adults with congenital heart disease. Learn about our focused programs, innovative research and exceptional outcomes.  
We see many conditions — far too many to list here. The conditions we treat vary depending on the location and providers selected. Don't see a condition listed? Call us.
Related Specialties & Programs
Nemours KidsHealth® offers a wealth of information about heart health. Find trusted medical advice right here. 
Need help finding easy exercises for your teen? We got you covered.
Eating well is an important part of keeping the heart healthy. Find healthy eating ideas for kids. 
one
two
three
Helping Delaware Valley Kids Live Their Best Life
The Nemours cardiac rehabilitation and fitness program in Delaware is designed to help kids be active, and live life to their fullest. We evaluate your child's ability and build their strength and stamina. We're here for every step.
Our pediatric heart experts know how heart problems affect children. We create safe, effective plans based on their specific condition. 
We make life a little easier, offering some appointments online by video. 
Your child is cared for by a team who partners closely to tend to their physical and emotional health.
Our team is involved in cardiac research that aims to detect, reduce the risk for, and even reverse conditions that lead to heart disease in children. 
We offer all the tools, support and guidance to help your child build a healthy lifestyle for a lifetime. 
The Nemours cardiac rehabilitation team is experienced and focused on your child's healthiest future. Meet them now.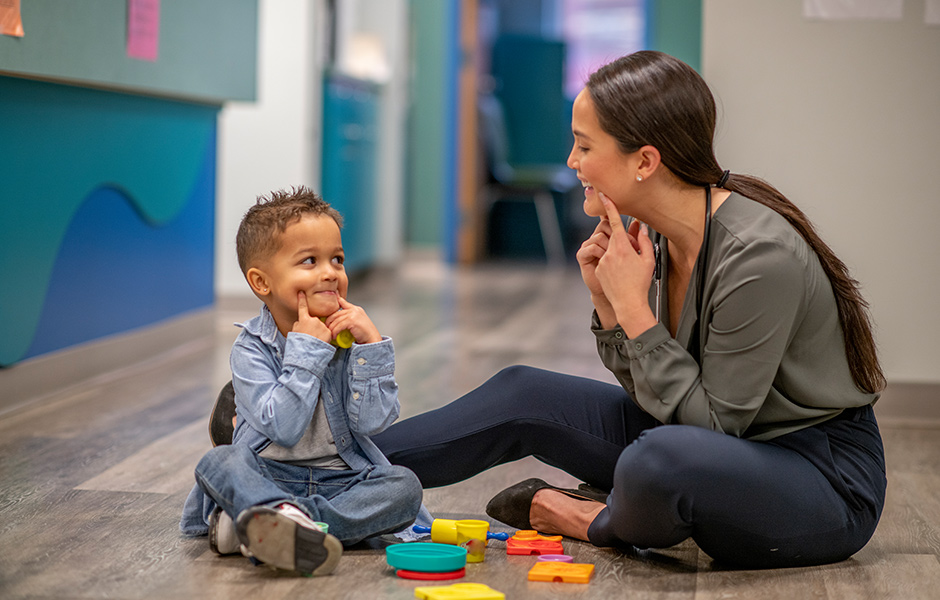 In Delaware Valley, our Cardiac Rehabilitation and Fitness Program offers coordinated care for kids and young adults. 
Our 12-week program includes an initial evaluation and testing. We plan for twice weekly, 50-minute exercise sessions that take place in-person at our fully-equipped rehabilitation facility, or during a video visit. We do progress assessments every four weeks to monitor improvements in strength and endurance. 
During this time, your child may have consultations with dietitians, psychologists, weight management specialists, physical therapists and more. We constantly stay in touch through our Nemours app. 
A final evaluation involves planning and goal setting to maintain your child's healthy lifestyle.
Convenient Follow-Up Appointments by Video
We offer follow-up appointments through scheduled, live video visits. You can avoid waiting rooms and save travel time. Ask your doctor if this is an option for your family.