Contact Us
Inpatient Heart Care
Contact Us
Inpatient Heart Care
Contact Us
Inpatient Heart Care
Hospital Care for Children With Heart Conditions 
Nemours Children's inpatient heart team provides the highest level of hospital care for children with heart and blood vessel conditions. We empower you and create an environment for your child's best possible recovery.
As part of integrated pediatric heart centers in Delaware and Florida, our specialty care units are designed for newborns, kids and young adults. Whether after surgery, catheterization or other procedures, we're equipped for even the most complex conditions. 
We offer award-winning care with expert cardiothoracic surgeons, critical care intensivists, fetal cardiologists, interventional cardiologists, electrophysiologists, cardiac anesthesiologists, pharmacists, nursing and others. We support your child and family with cardiac psychology services, cardiac rehabilitation and more. We guide you through every step.
Our team goes well beyond medicine to ensure your child has everything needed to heal here, and at home. In fact, when it comes to planning your child's return to home, our achievements are recognized nationally. This seamless transition can make healing and recovery a little easier for the whole family.
Two Leading Pediatric Heart Centers
Our heart centers offer highly advanced, integrated care just for kids and young adults with congenital heart disease. Learn about our focused programs, innovative research and exceptional outcomes.  
If your child needs care at home after a hospital visit, you have questions. Learn what to expect from the experts at Nemours KidsHealth®.
Going to the hospital can be scary for children. It can help to know what to expect. Find kid-friendly info here.
Balancing schoolwork and hospital stays can be a challenge. Get tips on helping your child thrive.
one
two
three
Hospital Heart Care That Involves the Whole Family
When your child is in the hospital, you want the very best. The Nemours inpatient heart team is highly experienced in caring for kids with heart conditions.
Your child is monitored around-the-clock with our dedicated nursing team and, as a back-up set of eyes, our EMTs at the Nemours Logistics Center. 
Nemours is recognized nationwide for our results in providing seamless care after discharge. 
Our nurse-to-patient ratio is low, which means your child gets high quality care and attention in a safe environment.
We have a dedicated coordinator who ensures you have training and appointments set before you go home.
Nemours inpatient heart care teams are experienced and focused on your child's healthiest future. Meet them now. 
Sean Daniel Connolly, DO

Cardiology

Associate Program Director, Pediatric Cardiology Fellowship

Primary Office

Wilmington, DE

Erica Del Grippo, DO

Cardiology

Medical Director, Interstage and Single Ventricle Program; and Program Director, Pediatric Cardiology Fellowship

Assistant Professor of Pediatrics

Primary Office

Wilmington, DE

Deepika Thacker, MD

Cardiology

Medical Director, Inpatient Cardiac Care Unit

Associate Professor at Thomas Jefferson University

Primary Office

Wilmington, DE
The inpatient cardiology team at Nemours Children's Hospitals in Delaware and Florida offers children and families:
Team-based heart care that includes a variety of specialists, surgeons, intensivists, and many others working together for your child's healthiest recovery
24/7 monitoring with dedicated advance practice providers and highly trained cardiac nurses, as well as monitoring through a centralized center staffed by emergency medical technicians (EMTs)
Family-centered approach, with open communication and daily rounds that includes your child's whole care team and family
Education and information about your child's condition and ways you can help them heal
Detailed discharge planning and care coordination that ensures you have everything you need at home
Special, hands-on training on medicines, equipment and devices so that you feel confident in caring for your child after you leave the hospital 
Ample facilities and advanced equipment such as high-tech monitoring systems, special waiting areas for families, spacious and private hospital rooms, places to play and gardens for peaceful breaks
Cardiac rehabilitation program including physical therapies, speech and language therapies and nutritional support to improve health and recovery, which continues as an outpatient
Cardiac psychology counseling to strengthen mental health for your child and family, and neurodevelopment support to help your child develop to the best of their abilities 
Enhanced recovery after surgery program specific to kids and young adults with heart conditions
Social work services dedicated to families in the cardiac inpatient hospital unit
Hospital support services, including Child Life, creative therapies, pet therapies, pastoral care, nearby Ronald McDonald House and more
We see all congenital and acquired heart conditions  — far too many to list here. The conditions we treat vary depending on the location and providers selected. Don't see a condition listed? Call us.
Related Specialties & Programs
Staying Overnight at Nemours Children's Hospitals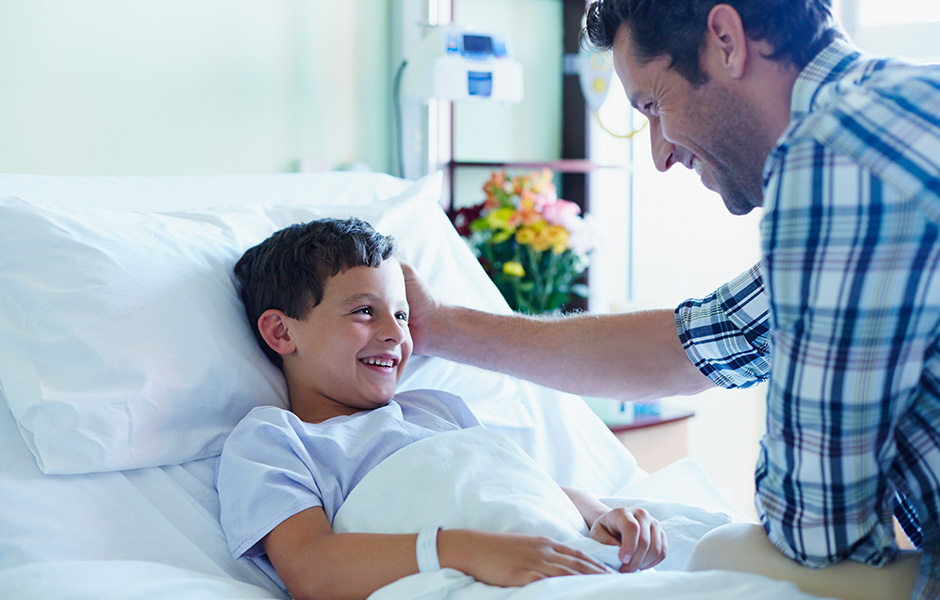 It's important for families to be close while their child is in the hospital. We have space for one parent or guardian to sleep comfortably in your child's room. 
If you need overnight lodging for the family, we can help. Your social worker can give short- and long-term options, like a nearby Ronald McDonald House. 
Learn more about the Ronald McDonald Houses at:
Nemours Children's Hospital, Delaware
Caring for Your Child at Home
The inpatient heart team at Nemours Children's Hospital, Delaware offers a supervised family care program to help you care for your child at home. 
Before you leave the hospital, under close supervision, you're directly engaged in your child's care in a special room equipped with what you'll have at home. We train you to give medicines, use monitors and devices, care for wounds and more. You leave us with the knowledge and confidence to help your child thrive.
We work hard to make your life as easy as possible. Our team meets monthly with families to understand their challenges after a hospitalization and adapt our care if needed. This helps your child and family have the best possible recovery.